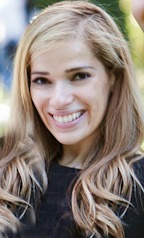 Lori Salkin works with thousands of singles worldwide and is a senior matchmaker and dating coach with www.SawYouatSinai.com, an international matchmaker driven database Jewish Dating Service with over 40,000 singles.
Lori devotes 12 hours a day to speaking to hundreds of singles on the phone, conducting in-person interviews and running weekly conference calls with singles and matchmakers from across the United States, Israel and Europe.
Lori advises singles and couples through the dating process. She is honored to have the opportunity to get to know each individual personally and help them find their perfect matches. Lori has 36 couples married and engaged and is expecting her 37th couple to get engaged soon. Lori is always available to speak on the phone, by text or email, day and night.
In addition to matchmaking, professionally, Lori was elected to public office in Massachusetts in 2009 and has worked for MSNBC in New York City and NBC News's local affiliate in Boston.
Lori graduated from Boston University in 2004 with a Bachelors of Arts in Music and earned her M.B.A. in Finance and Management from Fordham University in 2008. Lori also studied at the Juilliard School in Dalcroze Masters Certification.
Lori and her husband Leon were married on July 4th, 2005 and are parents to four adorable children, Chloe, Zachy, Gaby and Sammy.
Letter From Client
"Lori Salkin, the Matchmaker, the Scientist
I've never met Lori Salkin but somehow she knows me in a way only my closest friends and family do. You see, Lori isn't just a matchmaker, she's a scientist.
Just like a scientist….
Lori observes a phenomenon before trying to understand it. Lori is, above all, "a listener." In our first few conversations, I don't recall her speaking for more than a minute or two at any given time.
Lori looks for patterns. When I speak with Lori, I imagine her creating a Venn diagram of my dating preferences. More than identifying any one characteristic, she seems most interested in capturing the recurrent themes that course through my narrative of a potential partner. She appears trained to interpret my dating preferences through the prism of human physiology.
Lori seeks to understand the big picture from the smallest of details. Even a casual remark at the beginning of a conversation illicits the most thorough of follow up questions. It's as if she can extract the subtext from even the most unremarkable of statements.
Lori isolates the relevant from the surrounding noise. Being articulate about the evanescent subject of attraction is difficult. And yet Lori possesses the unique ability to capture the essence of even the most long-winded of answers. In 15 words or less, Lori can summarize that which required 15 minutes for me to express.
Lori tests and retests her hypothesis. Sometimes I think she proposes matches that she knows I will reject. If I do, it's a confirmation that she knows what I'm after.
Lori presents her conclusions with clarity and precision. When she describes what I am looking for, there is a lucidity to her observations. It's as if she is walking me through an activity she has performed countless times.
Lori makes it look easy. Speaking with Lori is to engage in the most effortless of conversations. As we transition seamlessly from topic to topic, Lori is actually hard at work trying to deconstruct what I am looking for."